Why METH test a property?
Testing a property for methamphetamine is the best way of checking whether a home is clean and safe to occupy.
Drug Testing Services tests properties for people looking to buy, rent or invest in a property. We also test on behalf of property managers and landlords. We will test for anyone, but it is usually the people who are buying or moving in who want to ensure that a home is free from drug (meth / P) residue or has not been used for drug use or manufacture.
If you are selling or renting out a property (either as an owner or as a landlord), there are benefits to having a property test done to show potential buyers or tenants that the home is clean. Having test results on hand can shorten the time it takes to sell or rent out, especially if the property is in an area where other contaminated homes have been identified.
Insurance companies often look at past property contamination testing results to determine whether or not any identified contamination is from long-term use or a single incident.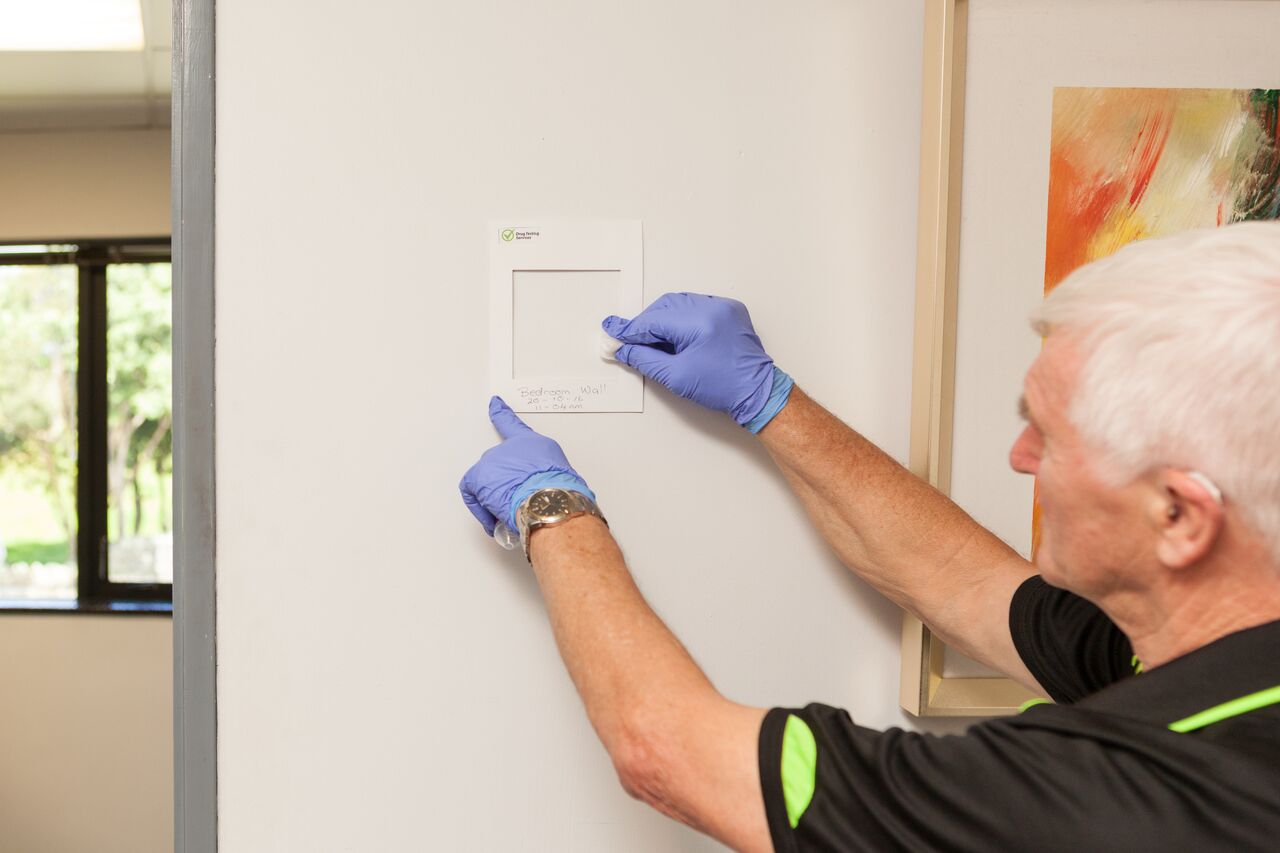 Types of testing that we do include:
Health concerns in a meth contaminated property
Typical symptoms a person may experience if living in a contaminated house may include, nose and throat irritations, breathing and sleeping difficulties and/or itching sensations of the skin, unexplained rashes, irritations of the eyes, feeling of depression and anxiety, chronic sense of fatigue and aching joints and body. Any of these symptoms, however, may be caused by other factors. Make sure you consult with your doctor if you experience any of these symptoms.
Identifiers
There are some common identifiers that may help you to identify if there is possible contamination to the property and may need to be tested. Talk to neighbours, pay attention to odours, look for carpet staining, vegetation burn marks, broken light bulbs. There are other signs that our technicians can identify during a Detailed Site Investigation.
If you suspect a property may not be clean from meth contamination, give us a call to discuss what the options are. Meth testing is usually cheaper than you think (and definitely less expensive than the costs associated with buying or moving in to a p contaminated property).
Pre purchase testing: Home buyers should safe guard their investments by having their properties pre purchase meth tested for methamphetamine contamination. A contaminated house can not only be an expensive liability to rectify but also a health hazard to you and your family.
Pre/post tenancy: Safeguard your investment by having your property pre and post tenancy tested for methamphetamine contamination. By doing this you can identify who is responsible if there is any contamination and recover costs relating to clean up. You also protect your tenant from health issues or potential expensive claims if a tenant moved in to an already contaminated property which damaged their possessions. A tenant can also request a contamination test to ensure they are moving into a safe property.
Stolen vehicles: If your vehicle has been recovered you should get a drug test done on the vehicle to check that there has been no heavy methamphetamine smoking causing contamination or that it has not been used as a methamphetamine laboratory.
Read more about the types of contamination testing that we do.